Back to the Newsletter Contents and Home page
Botany Report for 2005
The year started cold, with some strong winds, and snow in the last week of February. As a result many plants were late into leaf, with the main "greening" delayed until early May, and ashes not fully out until the first week of June. The hawthorn flowered late, and put on a very poor display compared to last year, showing just how important the weather can be. I did not receive any records from members, but did manage to see some interesting plants, mainly on limestone. One interesting site is at Nabgate Bank, on the other side of the valley from Ellerburn Banks reserve (strictly speaking just outside our area), where carline thistle, hairy violet, early purple, spotted and fly orchids, rockroses and woolly thistle were seen as well as many other plants typical of "unimproved" limestone grassland. Another wonderful site also beyond our boundaries is at Silpho where the uncommon pale or mountain St. John's wort Hypericum montanum was found, while on the more acid soil of Turkey Carpet both intermediate and common wintergreens (Pyrola media and P. minor) were growing almost together.
Further south in the Hambleton Hills I found Canadian fleabane (Conyza canadensis) growing in a setaside field, prickly oxtongue (Picris echiodes) in a newly felled wood, and broad-leaved helleborine (Epipactis helleborine) at the edge of woodland, all near Welburn. There were fewer spikes of knapweed broomrape at Flowery Bank Lane, Broughton but the bloody cranesbill and hoary cinquefoil were doing well. An unexpected bonus was to find about 30 flowering spikes of sand leek (Allium scorodoprasum), a plant I had never seen before (and I'm sure one would never see if it weren't in flower).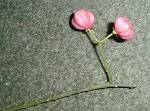 Closer to home at Gilling I was delighted to find a group of bay willows with their spectacular yellow catkins along the beck, and a couple of spindle trees along the road to Grimston, which even produced the characteristic fruits – clinching the identification!
Back to the Newsletter Contents and Home page
---
Text copyright © Ryedale Natural History Society 2006. Photo Gill Smith © 2005. Site maintained by APL-385.