Howardian Hills AONB Wildflower Survey
Back to the Index page
Do you like finding a new wildflower?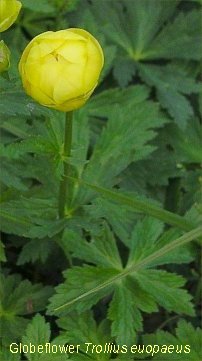 Over many decades the flora of the National Park has been infinitely explored and recorded while surrounding areas have to some extent been overlooked. An attempt to redress this imbalance will be made during the next year or two, and who knows what surprises may be found?
The selected area is the Howardian Hills Area of Outstanding Natural Beauty (AONB for short). It stretches from Crayke, Husthwaite and Coxwold in the west, through Ampleforth, Oswaldkirk and Sproxton to follow the River Rye to West Ness; then to Hovingham and along the B1267 to the outskirts of Malton; the boundary crosses the A64 at Musley Bank to encompass Huttons Ambo, Kirkham and Crambe then to Whitwell and Sittenham, and winds through Dalby Carr past Whenby along the road to Brandsby and Crayke.
Designated in 1987 as one of the most important landscape areas in England, it covers 79 sq.miles (204 sq.km) where rolling hills and secluded valleys provide widely diverse habitats. Extensive woodland, both ancient deciduous and later conifer plantations, sweeps along ridges between agricultural fields; stretches of plant-rich marshland are linked by an intricate network of waterways, ponds and lakes; in the parkland of large estates are opportunities for uncommon plant communities.
The Howardian Hills have long been known for their botanical richness. In 1794 Robert Teesdale published a list of rare plants in the area, updated in 1843 by Henry Ibbotson and again in 1906 by J.G.Baker (who later became the Curator at Kew), and reviewed by Kit Rob in 1963. Studies during the 1980s by Richard Gulliver revealed "only 17 of the 71 very rare species were present". He also drew attention to the significant loss of plant-rich sites, both in extent and number.
After a decade or more of inducement to land managers to retain, and where possible, enhance local biodiversity, the Ryenats survey will hopefully reveal whether this decline has been halted and any re-emergence of former species.
Gill Smith and I are planning to carry out the survey by tetrad (2×2km) recording and would welcome anyone interested to participate. Tick lists of likely plants will be available (either Latin or English) and details of proposed outings will be posted on the website. For those who prefer to work alone and are confident of their identification skills, you could select one or more tetrads. If you live or regularly walk in the AONB you could let us have plant lists from your favourite 'patch'. We hope to have a meeting of those interested early in 2009, please let Gill or me have your contact name, address and email if possible.
[Gill adds: It is important to record the common species to gain a complete picture of the botanical health of the area, but of course we hope to find unusual and rare plants as well, such as the globeflower pictured above, and the gagea and baneberry shown below – the latter only occurs on limestone in northern England, usually in ancient woodland.]
| | |
| --- | --- |
| Yellow Star of Bethehem Gagea lutea | Baneberry Actaea spicata |
---
© Nan Sykes and Ryedale NHS 2008; photos © Nan Sykes 2008. Back to top