Back to the Newsletter Contents and Home page
Mammal Report for 2005
Compared with 2004, not only have I received fewer records from the membership, but also fewer mammalian species. This could be because there are fewer mammals about or that observation has been difficult due to a variety of reasons.
Starting with the Insectivora, I have received 17 records for the hedgehog compared with 20 in 2004. Only three of those records are of alive adult hedgehogs, one of which was when two adult, of unknown sex, were found exploring our garden at Slingsby at dusk at the end of June and another of hedgehogs seen or heard all the spring and summer in a garden at Kirkbymoorside. The rest were all road casualties from near Rosedale (two), Hutton-le-Hole, Nawton, Normanby, Appleton-le-Moor, Sutton Bank, Welburn Grange, Kirby Misperton, Pickering, the Castle Howard road, Scagglethorpe and Slingsby. Present at Sykes House in the garden, but also road casualties were noted in the vicinity. Through the national Tracking Mammals Partnership, in which some 14,000 participants have been taking part, a survey on the 'mammals on the road' indicates that in parts of Britain the hedgehog is in decline. Further annual data is required before it could be certain that this is so, but, maybe here in Ryedale, we are beginning to notice the first evidence of such a trend with fewer records. The first date that hedgehogs were recorded was on 13th March in Kirkbymoorside and the last date, before hibernation, was 10th October.
Moles are the most obvious mammal in our region, so much so that members do not bother to notify me of their presence. However, a mole was observed crossing the road at Bransdale Bank on 6th September, as well as active hills on the edge of a sandy road in West Gill, Farndale at 350m. (1150'), a long way from the nearest fields. Fresh hills were noted in January at Slingsby and Robin Hood Howl wood near Kirbymoorside. An adult common shrew was found frozen to the ground at Slingsby on 23rd January, and another dead on a path in Gilling Woods in May. Their life span can be 15 to 18 months, but only 30% of young born in the spring survive to adulthood to breed.
The bats are still present in Ellerburn Church and, according to Simon Christian of English Nature, some movement towards solving the problem has occurred in 2005. The roof of the lych gate has been boarded up and a small heater installed with the hope that the bats will use this alternative site. Professional advice and a cleaning contract of the Church is being negotiated, both of which are being financed by English Nature. However, the intention of the congregation is to apply for a licence in 2006 to have the bats removed from inside the Church and, if that fails, to challenge the outcome in court. On July 5th, in spite of heavy rainfall, noctule, common pipistrelle and Natterer's bat  were seen flying around the Church by members of the York University Biology Department field study's course, the Natterer's bats having emerged from within the building. Along with four other species of bats, the Natterer's has increased in numbers in Britain. The annual Daubenton's bat survey along the River Rye at Nunnington took place in August and again showed increased activity along that stretch of river. The National Bat Monitoring Programme results for 1997 to 2004 indicate a 5 % increase in Daubenton's bats nationally and of the Rye site the report states 'this is the best site for Daubenton's bats in Yorkshire & Humberside of the 31 sites surveyed for the Bat Monitoring Programme since 1997 and the 76th best in the UK out of 871 sites' (see graphs). A pipistrelle sp. regularly flies around Sykes House and one was noted around 1st October. A small bat, probably a pipistrelle, was recorded at Gilling on 22nd April.
Of the rodents, only three rabbit records were received in 2005 from Nunnington (black variety), Sykes House, and Sproxton, where they are described as being very successful. It would seem that they remain widespread around Ryedale. Brown hares, however, have a scattered distribution with sightings of either singles or pairs from Boonhill Common, Sproxton, Pickering Low Carr Farm, Newsham Bridge, Low Park, Cawton, Fryton, Slingsby and South Holme on a variety of dates. However, around Gilling many hares were seen throughout the year in a variety of habitats and in February four individuals were recorded. The number of brown hare records received fluctuate from year to year from 4 in some years to 35 in others, possibly indicating a fluctuating population.
A grey squirrel crossed the A 170 at the Hutton-le-Hole junction and another one was recorded from the grounds of the Folk Museum at Hutton-le-Hole, with a further record of two shot squirrels in Robin Hood Howl wood, Kirkbymoorside, Gilling Woods and the Sykes, indicating that they are well established in the area. There appears to have been a recent invasion of greys in Slingsby, with many more being reported from back gardens. Brown rat were noted in the country around Ganthorpe, Black Sykes lane at Gilling, Slingsby, the Sykes and East Ness, of which, in some cases, the number involved would suggested infestation. Four nests of field voles were uncovered at ground level in the garden at Sykes House on June 7th, some containing hairless babies. A field vole was seen in Hawnby in August. Bank vole records come from Slingsby in December and a juvenile at Nunnington Hall in August, with wood mice recorded from Gilling Woods, from Kirkbymoorside collecting food on 22nd February, South Holme and Slingsby, where they are regular visitors to bird seed storage containers in the winter months. House mouse was recorded at Slingsby and South Holme. No water vole records were received, but it has been found that one of the best areas locally for this rodent is the Ministry of Defence land at R.A.F. Fylingdales.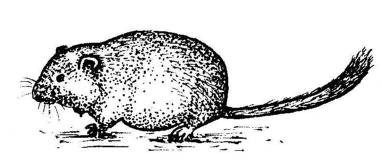 It has not been an encouraging year for the dormouse. The number of occupied boxes has been greatly reduced, with none being occupied in June and only one dormouse found in September and two in October. No young were found during 2005. This has been the lowest box occupancy level since the captive release programme started 5 years ago. It may be due a number of the unknown adverse factors, such as the failure of the hazel nut crop at the critical time in the breeding cycle, that led eventually to the disappearance of the dormouse from this part of Ryedale during the early part of the last century. However, further data in the coming years is needed before such a conclusion can be reached. The downward trend has been noted in other captive release programmes in England.
In spite of the ban on fox hunting coming into force in 2005, there has not been an increase in red fox records. Two cubs were observed playing in deep woodland on Faghill Rigg on 23rd May, a fresh fox kill was found in Robin Hood Howl wood, Kirkbymoorside in February and a single adult on the disused railway track, Slingsby, in October. A single adult and a smaller individual were seen in Gilling Woods in May, and a single adult at Grimston in July. Weasels were observed crossing the road between Fadmoor and Kirkby from time to time, also Cawton Lane, Gilling where at least 2 were seen apparently playing in July. There were also records from Scackleton, Welburn Grange, East Ness, north of Slingsby and Low Park; all these latter records being autumnal or early winter.  On June 4th a young family of four stoats were observed playing on an old wall, in the same area as the Fadmoor weasels, and an adult in pure white ermine was seen on Hamer Moor on 3rd February. Other stoat records were from Kirbymoorside, three times at Scackleton Mill, Howkeld Mill, Hold Caldron, Low Park, Hovingham, Slingsby, and a partially white one at Black Sike near Gilling on 21st November, thus increasing the number of records from 2004.
Only five records of the badger were received in 2005, namely from Gilling (a youngster dead on the roadside), Nawton and Kirkbymoorside (both dead on A170), Robin Hood Howl wood and Fadmoor Bank when a youngster was seen 9th October. This lack of records does not reflect on the status of the badger locally, which, according to all reports, is healthy. Two adult otters were found dead on consecutive days in Ryedale, the first on the road next to the fish ponds north of Amotherby and the second on the A170 at Middleton. Both were sent for autopsy at Cardiff by the Environment Agency. As the number of otters increase in our area, so the number of road fatalities seem to increase. Otter foot prints were noted on sand in Hodge Beck on 31st May and the River Rye at Rievaulx in April.
Roe deer were reported in April from Welburn crossroads (2 females), Pickering Low Carr Farm (3 females), below Sutton Bank in June, several in Gilling Woods (heard barking in July and a large specimen seen in December), Coulton crossroads, woodland at Rievaulx, Double Dykes, South Holme in February, Ings Lane on 11th October and Rudland regularly.
In all, 21 mammal species were recorded in 2005, compared with 27 for 2004. All records with an attached grid reference number and further details have been sent on to North and East Yorkshire Biological Date Centre in York. Records were received from Andrea Cooper, Gill Smith, Keith Dixon, Janet and Tom Denney, Jim Pewtress and Michael Thompson. 


Back to the Newsletter Contents and Home page
---
Text copyright © Ryedale Natural History Society 2006. Hedgehog drawing by Rhona Sutherland © 2006. Site maintained by APL-385.