Back to the Home page
Ryedale Natural History Society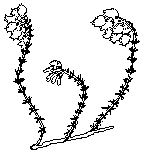 Programme for 2006 – see below for the indoor and outdoor meetings respectively.
We also have a list of the YNU Field Excursions.
The Society was formed on 2nd December 1963 and is based on the administrative district of Ryedale. It is responsible for 800 kilometre squares with Kirkbymoorside at an approximate centre. Our area is defined by the northern watershed running from Black Hambleton to Saltersgate; the Whitby to Thornton-le-Dale road to the east and the drove road along the edge of the Hambleton Hills to the west. Our southern boundary is less easy to describe but generally includes the Howardian Hills as far as Malton and the Kirkham Gorge.
There are approximately 80 members and the Society has seven indoor meetings, on the second or third Tuesday of the month, in Kirkbymoorside and at least four outdoor trips during the year. New members are always welcome (please contact Tom Denney). Our programme for 2006 is:
January 10th
Recorders' Reports and Talks
Ryenats Recorders
February 21st
Wildlife and Farming
Joint Meeting with Ryedale Beekeepers' Association
John Harrison
March 21st
The Seychelles Magpie Robin Recovery Programme
Dr John Edwards
April 11th
Masters of Spin
Joint Meeting with Yorkshire Wildlife Trust
Don Smith
October 17th
Ringing – Science or Hobby
Jim Pewtress
November 21st
AGM
December 12th
An Amateur at Large
Keith Dixon
January 16th 2007
Recorders' Reports and Talks
Ryenats Recorders
All indoor meetings are held at Church House, High Market Place, Kirkbymoorside, at 7:30pm.
---
Sunday, 23rd April
Identifying Birdsong
Jim Pewtress
Tuesday, 23rd May
Visit to Skipwith Common (between York and Selby)
Meet in main car park of Reserve at 11am (SE 644 375)
Bring packed lunch
Michael Thompson
Friday, 16th June
A Botany Workshop
Meet Old Station Square Car Park, Ravenscar at 11am
( TA 985 013). Bring packed lunch.
Nan Sykes & Gill Smith
Tuesday, 11th July
Evening Walk down Costa Beck
Meet at 7.30pm at Keldhead, Pickering SE 787 845
Park in Westgate Carr Lane at Keldhead
Tom Denney
Wednesday, 27th September
Visit to Spurn
Meet at 8am in Kirkbymoorside.
Park in Piercy End south of Market Place
Jim Pewtress
October
Evening Visit to York featuring life of Adam Gordon
Date, timing and venue to be advised
Michael Thompson
For further details please contact Tom Denney or Gill Smith.

A Programme and Newsletter are available
from the Secretary: Tom Denney, Sykes House, Rudland,
Kirkbymoorside, York

or email Tom Denney or Gill Smith

YNU Field Excursions 2006

| | |
| --- | --- |
| VC61 June 17th | Reighton Gap/Primrose Valley |
| VC62 July 1st | Hayburn Wyke |
| VC63 July 22nd | Rotherham |
| VC64 Aug 5th | Appletreewick |
| VC65 May 20th | Wensley, Leyburn |

For further details see
http://ynu.org.uk/ynuexcursions.htm
---
© Ryedale Natural History Society 2006.
Site maintained by maintained by APL-385. Page last modified 6th January, 2006