Back to the Annual Report Contents and Home page
Fungi Records
2007 seems to have been a very poor year for fungi overall and I only have 63 records. My thanks to Gill Smith, Janet Denney and Don Smith for their observations.
I have been to many places around Ryedale but I have not seen a single Parasol mushroom and no great troupes of the really common species, except for one marvellous muddy field with innumerable Volvariella speciosa over by the A64 near Welburn, in August. Even the Fly Agarics seemed in short supply and were soon over.
There have, however, been a few firsts for me personally. There was a fresh Giant puffball (Langermannia gigantea) in a friend's garden in Oswaldkirk, and Dead man's fingers (Xylaria polymorpha), Cramp balls (Daldinia concentrica) and Tricholoma terreum in my own garden.
The most exciting of all were the Redlead Roundheads (Stropharia aurantiaca), found on wood chips in the Farm Shop car park between Helmsley and Kirkbymoorside. Don Smith told me of these in November and we were both surprised to find they were something quite special. They only seem to grow on woodchips and there is no information as to where they really come from. So, this is a new habitat to watch and adds a new dimension to 'shopping'.
Gill Smith recorded 5 species including a small cream-coloured fungus called Postia ptychogaster and two lovely Myxomycetes – Mucilago crustacea and Lycogala terrestre. Myxomycetes are no longer considered Fungi but belong to Protozoa. The most common one, variously called 'Flowers of Tan', 'Cat Sick Fungus' or 'Dog sick fungus' (Fuligo septica), does seem quite common and I have seen it in several locations this year, including Sandsend on the Ryenats trip there in October. It is an intriguing one because it actually moves very slowly along the substrate. Janet Denney showed me some strange black spindles growing in moss at Sykes House and these turned out to be old Candle Snuff Fungus (Xylaria hypoxylon). So, let's hope 2008 produces more fungi but please tell me of any you see.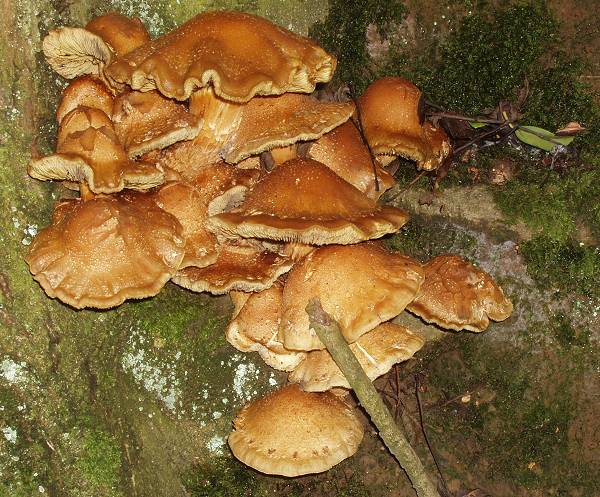 Pholiota aurivella © Rhona Sutherland 2008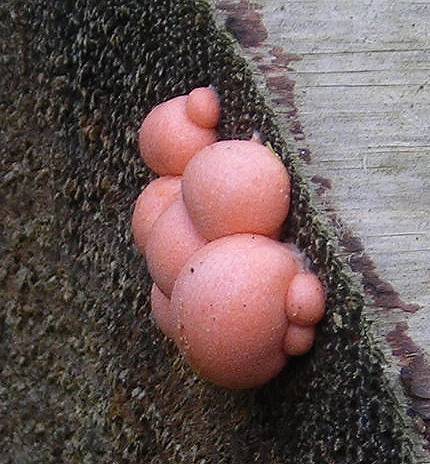 Lycogala terrestre © Gill Smith 2008
Back to the Annual Report Contents and Home page