Back to the Annual Report Contents and Home page
Fungi Report and Records for 2008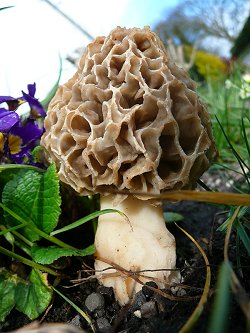 Common Morel Morchella esculenta
photo by Tom Sutherland
2008 has been a really good year for fungi. They like it wet!
In autumn the woods were full of fungi. I recorded a total of 150 species in various locations but there were undoubtedly hundreds more. Notable among the records, and a first for me, were several Morchella esculenta, known as the Common Morel, growing on Oswaldkirk Bank. These are not common here, but occur more widely in Europe where they are famously good to eat. Surprisingly, they occur in Spring, and are said to be increasingly found on woodchips spread on flowerbeds in public places. Those in Oswaldkirk were on soil, under shrubs, on the steep bank. I was able to watch, over a period of about three weeks in April, while they swelled from desiccated looking knobbly things to beautiful succulent honeycomb-headed morels such as I had only ever seen in books.
A foray to Cropton Forest in September revealed 74 species identified by Gordon Simpson, and notable amongst these were several specimens of Gomphideus roseus. This noble dark pink fungus with wide grey decurrent gills and black spores is often found in association with the more common Bolete Suillus bovinus, and is possibly parasitic upon it. It is not common and has been recorded twice from Dalby Forest, once from Harwood Dale and then again last year from Boltby Forest, again by Gordon Simpson.
Our own foray to Gilling Woods in November revealed 76 species identified by Colin Stephenson. One highlight was the lovely little turquoise Green Elf Cup Chlorociboria aeruginascens. Many thanks to Don Smith, Gill Smith and Janet Denney for sending me notes or photos of interesting fungi they had seen over the year. Some we have identified, others have been more of a puzzle. The most intriguing were Janet's strange scarlet spots. She found these on pine logs in her garden and took the lovely pictures below, but the logs then went to her son in Warwickshire. Having retrieved some bits of wood they have provided hours of endless fun trying to identify them, and pulling in help from experts in Skipton and Scarborough I am now confident that they are a slime mould or Myxomycete, as they are known. These are not fungi at all but until recently were classed as such. Archie McAdam from Skipton and the Mid Yorkshire fungus group, has taken some beautiful photos down the microscope of the sample I sent him and has passed material on to the Myxo specialist John Webb. We think they belong to the genus Arcyria and you can see the amazing oval spore bodies consisting of a tangle of strands in the photos below. These sporangia sit in little cups on tiny stalks and shed their oval spores to their surroundings. They are not uncommon on dead wood but we are not sure which species they are yet.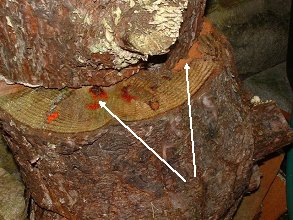 | | |
| --- | --- |
| | |
---
Archie's Microscope photos of the same slime mould:


Details of a myxomycete or slime mould, probably Arcyria, showing the oval spore bodies and tangle of strands.

photos by Archie McAdam
So please keep looking and telling me of what you see and I will endeavour to help you find out what they are if needed. I am always willing to come out and look, or you can photograph them showing the main features, or send me gently dried specimens. Please note the date and locality as well as which plants they are growing with.
---
Text © Rhona Sutherland 2009; photos © Tom Sutherland, Janet Denney and Archie McAdam 2008
Back to the Top, Annual Report Contents and Home page