Back to the Annual Report Contents and Home page
Fungi Report and Records for 2009
Autumn in 2009 was very dry so there were few fungi around in September and October. Towards the end of October it was very wet so they really didn't start appearing in any numbers until November. Then there did seem to be lots but actually we only recorded 95 species this year as opposed to 150 last year as we seemed to have missed out on all the common Boletes, Russulas and Lactarius species. We did find 11 new species for Ryedale although they had all been recorded elsewhere in VC62 [Ed: North-East Yorkshire, our "recording county"] in the past.
I have certainly seen more than this but there have been a lot I have been unable to identify. In an attempt to improve on this I have been on 2 forays with The North East Fungus Study Group (NEFGS), acquired a hideously complicated tome on Ascomycetes the spore shooters, as opposed to the Basidiomycetes spore droppers, found a good new simple keys to Waxcaps, another to Xerocomus and another to Coprinus species and finally managed to work out how to log onto the fungus forum http://tech.groups.yahoo.com/group/Fungi-BritishIsles/ where experts and others help you identify fungi if you post a photo and description.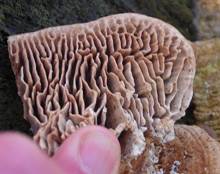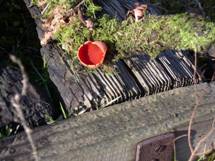 Gill Smith told me about this and she has reported lots of fungi herself this year, sending me details of 25 species as well as many good photos.
In February she reported Oak mazegill Daedalea quercina in ancient woodland in Ashberry (see left). Frank and Rosie Adcock reported the beautiful little Scarlet elf cup Sarcoscypha austriaca from Crambeck (see right). Then in April on Nan Sykes' Ryenats trip to Appleton-le-Moors, Gordon Simpson from NEFGS was with us and identified 14 species. Among them was a pale floppy beige cup growing out of the soil called a Bleach cup Disciotis venosa. Two weeks later I saw the same species growing on gravel in a damp corner of a cupboard UNDER a patio in Oswaldkirk (below right)!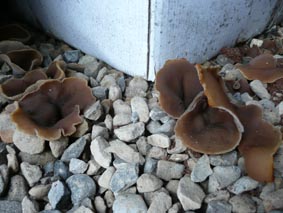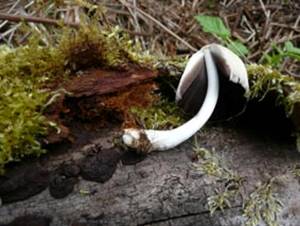 In May on Janet Denney's walk in Riccaldale we identified another 6 interesting species including the Red rug inkcap Coprinellinus domesticus which grows out of logs and rests on a red/rust bed of fibres giving it its name (left). Also a mass of Shield Pinkgills Entoloma clypeatum emerged under a Mirabelle tree in Oswaldkirk. These have pink gills and drop pink spores.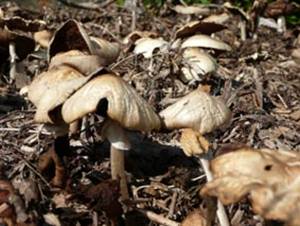 When several trees were chopped down on Oswaldkirk Bank in July masses of Agrocybe praecox erupted on the pile of wood chips left behind and in October I was delighted to see the same species in my own garden when a pile of chippings was left from the removal of a large Horse Chestnut tree (right).
At the end of September Gill reported a group of 3 Grey spotted amanitas Amanita excelsa and also a possible deadly poisonous Destroying angel Amanita virosa in Gilling woods.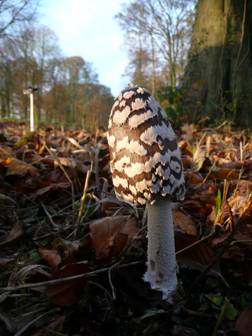 She also found the marvellous checked Magpie inkcaps Coprinus picaceus on the verge of the Castle Howard Avenue (left). Castle Howard Arboretum organised a good talk, fungal photo exhibition and foray in October with Malcolm Greaves, and it was such a success they will be doing it again next year so it is well worth a visit. I later saw lots of bright yellowish orange slimy capped Boletes with a floppy ring which I could identify as Slippery Jack Suillus luteus.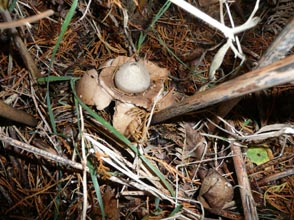 In November our own foray to the top end of Gilling/Yearsley woods at Windygates revealed 29 definite species the highlight of which, for me, was a plethora of Collared earth stars Geastrum triplex (right). I was really excited to find just one specimen on a recce before the foray but on the day they were everywhere. I have never seen them in this country before but they are clearly not as rare as I thought. Gill spent a good deal of time and effort after the foray trying to identify a slimy bolete and eventually it was determined by Colin Stephenson as Suillus viscidus.
Many thanks to Don Smith, Gill Smith and Janet Denney for sending me notes or photos of interesting fungi they had seen over the year. Some we have identified, others have been more of a puzzle, and I still don't know what Janet's slimy cauliflower fungus nor Gill's Rubber fingers were.
If you can email me a photo of both the upper and lower sides of the fungus along with the date, grid reference and plant on which you found it I will be more use, and if you can find out the colour of the spores by making a spore print yourself or sending me a bit of the specimen I will be even more use in helping you identify it.
So, please keep looking and telling me of what you see and I will endeavour to help you find out what they are. I am always willing to come out and look anywhere in Ryedale and if anyone else wants to come on any of the North East Fungus Study Group or Mid Yorkshire Fungus Group forays let me know.
---
Text © Rhona Sutherland & Ryedale Natural History Society 2010
Photos © Rhona Sutherland and Gill Smith 2009
Back to the Annual Report Contents and Home page