Back to the Annual Report Contents and Home page
Fungi Report and Records for 2010
Autumn 2010 in Ryedale was the best season for fungi since I moved here 5 years ago. We had over 180 records covering 118 different species.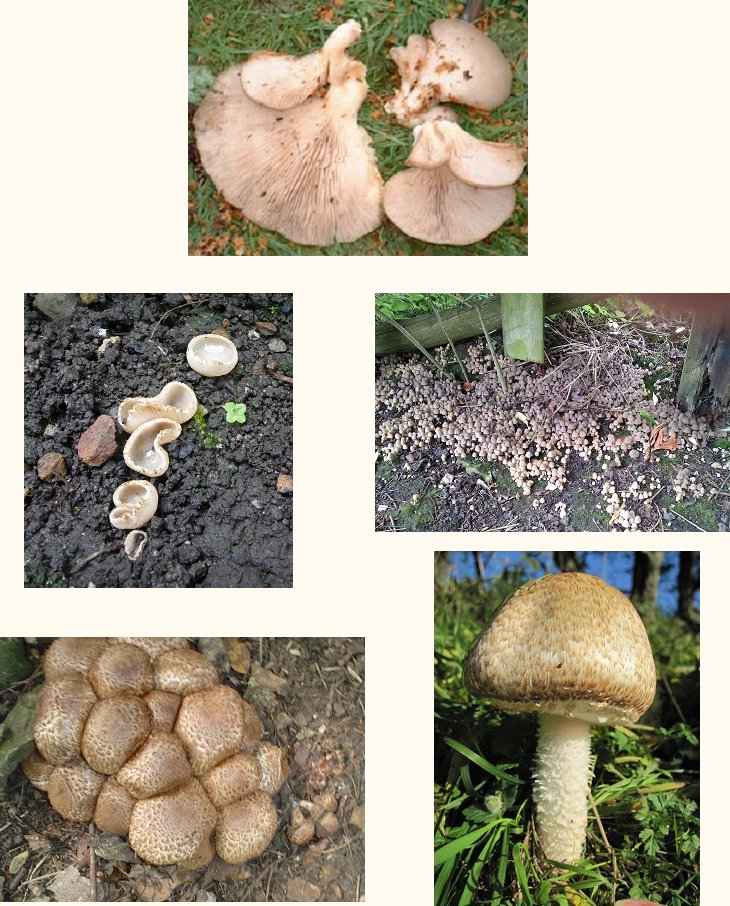 There were several interesting puzzles to solve in 2010 such as:
What were the floppy Pleurotus-like brackets that Janet Denney found in her garden? (Pleurotus pulmonarius, top)
What are those little beige fleshy cups that appear every year on the soil under my hazel bushes? (Tarzetta catinus, middle left)
What were those tiny gilled inkcaps that appear in a great mass close by the Tarzetta and which last only a few days? Gill Smith sent me a photo of the same species she had found near Whitwell and we determined they were Coprinus disseminatus, middle right.
Then there were those shaggy Agarics that Mary Brill saw in the moat above Kirkbymoorside Castle and that she and her friend both photographed, but which I could NOT find? We think they were Agaricus buhosii but are not absolutely sure without seeing them and so hope they appear again next year (bottom left).
Gill Smith found some very fine golden cloaked agarics near Lastingham which turned out to be Agaricus augustus which are incidentally very good to eat (bottom right).
What was the Earthfan that Jen Smith from NYMNP photographed but again which neither she nor I could find when we went to search for it a few days later in Gilling Woods? This excitingly turned out to be Thelephora caryophylla – the less common Earthfan.


What we did find was a cluster of lovely delicate brackets on sopping wet twigs. They were toffee coloured on top but brilliant white and almost flower shaped underneath. Puzzlingly they had neither pores nor gills but sort of wrinkles, and I was delighted to finally track them down as Plicatura crispa.

But MOST intriguing of all........ whatever was that huge pinkish brown bun-like Puffball Gill and Adrian Smith recorded from Ampleforth golf course, at the end of the season? We took photos, used the Fungus Forum, sent photos to lots of experts, took the actual, now disintegrating, specimen up to a microscope workshop with the North East Fungus study group and looked at the spores under the microscope. I even bought THE book on British Puffballs, Earthstars and Stinkhorns.

Eventually the consensus was that is was an atypical and very wet specimen of a rather uncommon species called Lycoperdon utriforme – the Mosaic Puffball – that had lost its mosaic covering in the rain.




We again saw Morels in Oswaldkirk in April, Earthstars in Yearsley in October, a Cauliflower fungus at the base of the same Scots pine tree in Gilling woods as two years ago and several Magpie fungi along Castle Howard Way in November.

I spent several happy hours getting more keys to various fungi groups, going on a couple of forays outside Ryedale and trying to understand various websites to improve my identification skills and puzzling over 'Just what is the difference between a Saffron Milkcap Lactarius deliciosus and a False Saffron Milkcap Lactarius deterrimus?'

We had an interesting Ryenats foray to the ancient woodland in Duncombe Park where we recorded the elusive Oak Polypore – Piptoporous quercinus, identified by Gordon Simpson, and 63 other species.

The MYFG again held several good forays and an excellent Magic Mushroom day at Harlow Carr in October, where specimens were brought in or collected on the day and identified for a display in the new Education Centre. The NEFSG held an interesting microscopy day at Hamsterley Forest in County Durham and although these events are mostly outside Ryedale if we want to improve our understanding of the fungi of Ryedale we do need to have lots of people prepared to go looking and identifying specimens on our patch. There will be hundreds more species out there but the difficult bit is to identify them with a degree of confidence!

Thanks to all who have sent me records or photos or told me of interesting sightings this year. If you are interested in fungi keep looking, keep going on any forays, join the MYFG and/or the NEFSG, take photos, collect a specimen if there are more than one and if you want help, tell me about it so I can come and look and try and help identify it. I now have a good microscope and an increasing number of keys and books so we are making progress!!
---
Text © Rhona Sutherland & Ryedale Natural History Society 2011
Photos © Rhona Sutherland, Gill Smith, Mary Brill 2010
Back to the Annual Report Contents and Home page