Back to the Annual Report Contents and Home page
Fungi Report and Records 2014
It was a very good year for Fungi. We had 263 records, from 5 recorders. 158 species, from 21 Ryedale sites. Thank you Melanie, Gill, Keith and Peter.
I had several phone calls and emails telling me of interesting sitings in various places which yielded intriguing fungi. For instance the return of the Stubble Rosegill - Volvoriella gloiocephala, in wet muddy fields in November. I had not seen these distinctive troupes of tall greyish fungi with pink gills, a volva at the base of its stipe, but no ring, for several years, but I saw it in several places this year and Keith found it near Coxwold too.
We had interesting visits to Stape and Sleightolmedale, as well as visiting the usual haunts around Oswaldkirk, Ampleforth and the Yorkshire Arboretum.
There were overall 18 new species added to our Ryedale list. Special thanks to Melanie who identified 7 of them.
The Sleightolmedale foray yielded plenty of fungi. Particularly exciting was the Thelophora penicillata (a brown and white spikey earthfan growing out of the ground that comes up through the grass). Unfortunately it does not have a common name. I had never seen this before but we saw it in several places on the Sleightolmedale foray. There have only been 6 records of it in VC62 and those were in the Scarborough Loftus Danby area, with the last record being in 1992.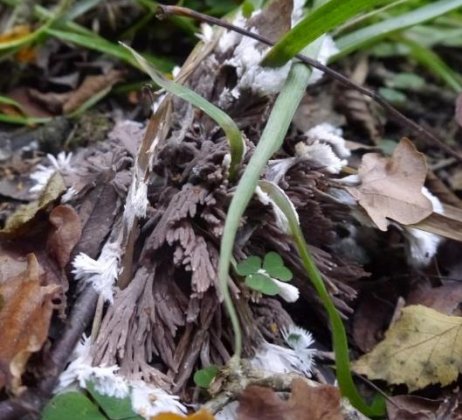 I was again amazed to find unusual fungi right on our own doorstep. In March I found several Earpick fungi Auriscalpium vulgare on cones under the Scots pine trees in my garden.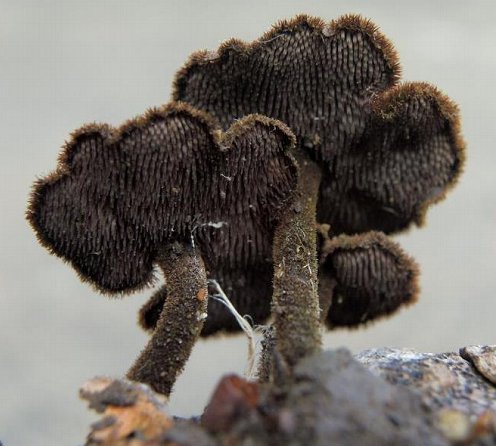 In November when parking at Gilling lakes, as I have done numerous times before, I noticed lots of what looked like small golden polystyrene balls on the wooden rail in front of me. These turned out to be Common Birds nest fungi - Crucibulum leave. A real little gem!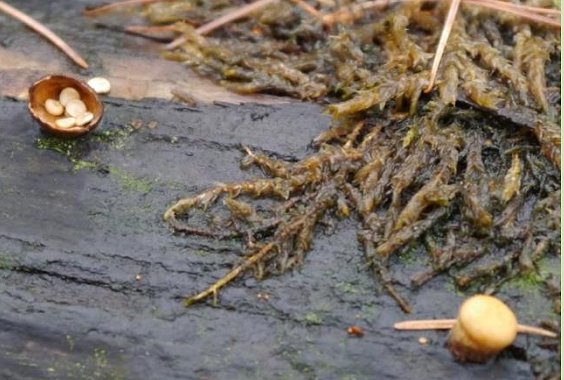 I went on several forays with the North East Fungus Study Group this year and then in September, John and I went with them to Keilder for 3 days, which was brilliant. You learn so much in the company of experts like Gordon Simpson.
On one of those forays someone pointed out the Alder tongue Taphrina alni which is an inconspicuous black tongue snaking out of alder cones. It is actually a gall induced by the fungus and the chap who showed me said they were on practically every Alder tree once you know what to look for. And he was right!! We have since found it at Gilling and in the Arboretum and are eagerly awaiting Spring because they are apparently a bright red orange flame colour then, and much easier to see.
The most exciting find though, was in the Arboretum on October 29th. There were several large brown slimy capped fungi under pines on the edge of the carpark and I expected them to be Boletus lutea – Slippery Jack. However when I turned one over it had gills not pores, and a dual coloured band on its stipe. It had white spores and after an evening of puzzling this out I got it down to a Tricholoma batschii.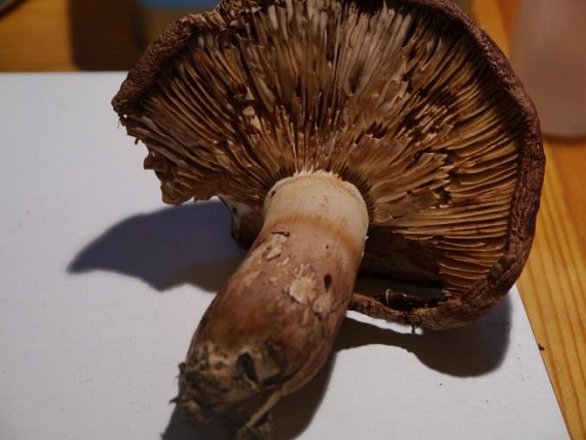 I checked on FRDBI and CATE 2 (the 2 national fungi databases) and although there were 35 records nationally, it has not been found in Yorkshire before, never mind Ryedale. So the next day I went to see Malcolm Greaves at the Arboretum where he was running a foray and told him about it. He is the Mid Yorkshire Fungus Group's fungi recorder. He looked and later agreed I was probably right. He took some specimens and sent some to the real expert, Geoff Kibby, at Kew. After some discussions back and forth he too agreed the identification was correct. So that is a pretty exciting find and I can't wait for this years' fungi season to try and find some more specimens to really clinch it for Yorkshire.
Please keep looking for interesting fungi anywhere and get in touch if you want help identifying them.
---
| | |
| --- | --- |
| © Ryedale Natural History Society 2015 | Back to the Home page |