Back to the Home page
Ryedale Birds
Over 150 species have been recorded in Ryedale over many years.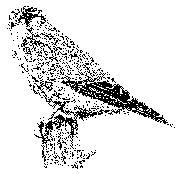 Introduction
The area covered by the Ryedale Natural History Society extends from the Hambleton Hills in the west to the A169 Pickering to Whitby road in the east and from Bransdale Moor and the Lyke Wake walk in the north to the River Rye and its environs in the south, a total area of some 800 square kilometres.
The area includes the upper dales of Bilsdale, Bransdale, Farndale, Rosedale and Newtondale, and a section of the Vale of Pickering. Thus the habitats vary from extensive moorlands and forests to mixed woodlands with cultivated farmland in the Vale of Pickering. In addition to the rivers there are a number of smaller waters, either natural or man-made, in the southern area, e.g. Gormire, Newburgh and Gilling Lakes.
Species of Birds
The species of birds likely to be seen will vary according to the habitat though there is a considerable overlap of the more common species. The list is not intended to be comprehensive for each particular habitat but indicates some of the variety which can be observed, depending upom the seasons of the year. For general convenience these are listed in alphabetical order.
Upper Dales
Buzzard, Brambling, Chiff-chaff, Common Crossbill, Cuckoo, Curlew, Dipper, Fieldfare, Goldcrest, Golden Plover, Goldfinch, Great Spotted Woodpecker, Green Woodpecker, Kestrel, Lapwing, Little Owl, Meadow Pipit, Merlin, Missel Thrush, Nightjar (Rosedale), Pied Wagtail, Peregrine Falcon, Pheasant, Red Grouse, Redshank, Redwing, Ring Ouzel, Sparrowhawk, Siskin, Skylark, Song Thrush, Snipe, Spotted Flycatcher, Stock Dove, Tawny Owl, Treecreeper, Tree Pipit, Wheatear, Whinchat, Willow Warbler.
Vale of Pickering and lower river valleys
This area holds many of the species listed in the previous section as well as the following:
Barn Owl, Blackcap, Black-headed Gull, Bullfinch, Canada Goose, Coal Tit, Collared Dove, Common Gull, Coot, Garden Warbler, Great Crested Grebe, Goosander, Grey Partridge, Grey Wagtail, Heron, Jay, Kingfisher, Lesser Spotted Woodpecker, Lesser Whitethroat, Little Grebe, Long-tailed Tit, Marsh Tit, Moorhen, Nuthatch, Pied Flycatcher, Pochard, Red-legged Partridge, Sand Martin, Tufted Duck, Turtle Dove, Waxwing, Whitethroat, Wigeon, Willow Tit, Woodcock, Yellowhammer, Yellow Wagtail.
Common Species
The following is a summary of the common species to be found throughout the area, additional to those listed in (1) and (2) above:
Blackbird, Blue Tit, Carrion Crow, Chaffinch, Dunnock, Great Tit, Greenfinch, House Martin, House Sparrow, Jackdaw, Magpie, Mallard, Robin, Rook, Swallow, Swift, Wood Pigeon, Wren.
Jack Watson, Bird Recorder
---
---
© Ryedale Natural History Society 1998-2008
Page last modified 24th March 2008