Back to the Home page
Ryedale Natural History Society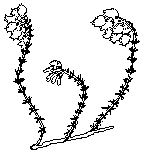 Programme for 2010 – see below for the indoor and outdoor meetings respectively.
The Society was formed on 2nd December 1963 and is based on the administrative district of Ryedale in North Yorkshire. It is responsible for almost 1200 one-kilometre squares with Kirkbymoorside at an approximate centre. Our area is roughly defined by the northern watershed running from Black Hambleton to Saltersgate; the Whitby to Thornton-le-Dale road to the east and the drove road along the edge of the Hambleton Hills to the west. Our southern boundary is less easy to describe but generally includes the Howardian Hills as far as Malton and the Kirkham Gorge, following the 70 grid line.
There are approximately 60 members and the Society has seven indoor meetings, usually on the third Tuesday of the month in Kirkbymoorside, and at least four outdoor trips during the year. New members are always welcome (please contact the Secretary, Tom Denney, or just come to one of our meetings).
We publish Newsletters, annually in recent years. Dr. Michael Thompson has recently donated two bound volumes of the newsletters 1998-2004 and 2005-2008 to the archives of the Ryedale Folk Museum. They are now available for reading in Ryedale Folk Museum library. We would like to thank Michael for this generous donation.
We are affiliated to the Yorkshire Naturalists' Union (YNU), and have a list of YNU Field Excursions.
Our programme for 2010 is:
January 19th
Recorders' Reports
Ryenats Recorders
February 16th
An Introduction to Bee Keeping
Joint Meeting with Ryedale Beekeepers' Association
Tony Jefferson
March 16th
Living on the Edge – Life in the intertidal zone
Dr Sue Hull
April 20th
Shetland Otters
Joint Meeting with Yorkshire Wildlife Trust
Gordon Woodroffe
October 19th
Private Lives
Phil Prosser
November 16th
A Batty Film and the AGM
Peter Smithson
December 14th
Migration
Jim Pewtress
January 18th 2011
Recorders' Reports

Ryenats Recorders
Indoor meetings are held in the Methodist Hall, Kirkbymoorside, at 7:30pm.


---
Unless advised otherwise all meetings are on Saturdays
Please bring a packed lunch for all-day meetings.
May 1st
Dawn Chorus 5am
Meet Cawthorne Carpark SE 783897
Tom Denney
May 22nd
Early Summer Flowers at Rievaulx 11am
Meeting point Rievaulx Terrace (entrance gate) SE 583852
Nan Sykes & Nick Fraser
June 19th
Exploring Sleightholmedale 11am
Meet on the Avenue SE 670885
Mrs R. James
July 3rd
Grasses of the moorland edge 7pm
Meet Sykes House SE 664917
Gill Smith
July 31st
Exploring the inter tidal zone, Filey 11am
Meet at the entrance to North Cliff Country Park, Filey
Dr Sue Hull
September 25th
Visit to RSPB Reserve at Saltholme, Teesmouth
Car Share from Kirkbymoorside at 9.45am
Jim Pewtress
October 16th
Fungi Foray Duncombe Park 11am
Meet at Park gates in Helmsley SE 612836
Rhona Sutherland

For further details please contact Tom Denney or Gill Smith.
A Programme and Newsletter are available

from the Secretary: Tom Denney, Sykes House, Rudland,
Fadmoor, York

or email Tom Denney or Gill Smith

YNU Field Excursions 2010

| | |
| --- | --- |
| VC61 May 15th | Lower Derwent Valley |
| VC62 (Botanical section) June 12th | Dalby Forest |
| VC62 June 26th | Low Mill, Farndale Joint Meeting YNU/BSBI |
| VC63 July 3rd | Brockadale |
| VC64 July 24th | Buckden |
| VC65 August 7th | Barrowfield LNR |

For further details see http://www.ynu.org.uk/review2/events
There are also separate outings for the different sections, e.g. Botanical.
Links to other interesting wildlife sites
Back to the home page
---
© Ryedale Natural History Society 2010.
Site maintained by maintained by APL-385. Page last modified 5th April 2010