Back to the Home page
Ryedale Natural History Society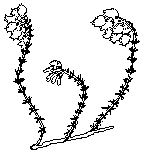 Programme for 2013 – see below for the indoor and outdoor meetings respectively.
The Society was formed on 2nd December 1963 and is based on the administrative district of Ryedale in North Yorkshire. It is responsible for almost 1200 one-kilometre squares with Kirkbymoorside at an approximate centre. Our area is roughly defined by the northern watershed running from Black Hambleton to Saltersgate; the Whitby to Thornton-le-Dale road to the east and the drove road along the edge of the Hambleton Hills to the west. Our southern boundary is less easy to describe but generally includes the Howardian Hills as far as Malton and the Kirkham Gorge, following the 70 grid line.
There are approximately 60 members and the Society has seven indoor meetings, usually on the third Tuesday of the month in Kirkbymoorside, and at least four outdoor trips during the year. New members are always welcome (please contact the Secretary, Pauline Popely, or just come to one of our meetings).
We publish Newsletters, annually in recent years. Dr. Michael Thompson has recently donated two bound volumes of the newsletters 1998-2004 and 2005-2008 to the archives of the Ryedale Folk Museum. They are now available for reading in Ryedale Folk Museum library. We would like to thank Michael for this generous donation.
We are affiliated to the Yorkshire Naturalists' Union (YNU), and have a list of YNU Field Excursions.

January 15th
Recorders' Reports
Ryenats Recorders
February 19th
Red Kites
Joint Meeting with Ryedale Beekeepers' Association
Nigel Puckrin
March 19th
The Development of the Lower Derwent NE Reserve
Craig Ralston
April 16th
Nest Recording & its Interpretation for Different Aspects of Nature

Geoff Myers
October 15th
Forest Design Plans
Nigel Rylance
November 19th
AGM and "The Carrs Wetland Project in 'Yorkshire's Hidden Vale' "
Tim Birkinshaw
December 17th at 8:30pm
Interesting Finds in the Last 50 Years
8:30pm – preceded by Christmas dinner at 6:30pm – contact Secretary for details
Gordon Simpson
January 21st 2014
Recorders' Reports & Members' Projects
Ryenats Recorders
Indoor meetings are held in the Methodist Hall, Kirkbymoorside, at 7:30pm (apart from December 8:30pm).


---
Please bring a packed lunch for all-day meetings.
Cancelled - snow
March 23rd
Arkengarthdale Black Grouse Lek
meet Piercy End, Kirkbymoorside 4:00am
Mick Carroll
April 24th
Evening Moorland Walk around Blakey
meet Lion Inn car park, SE679997 - 6:30pm
Ken Hutchinson
May 4th
Dawn Chorus
meet Appleton-le-Moors SE735878 5:00am
Jim Pewtress
Postponed due to weather
May 18th
Spaunton Quarry
meet Appleton Common, SE725872 10:00am
Gill Smith
May 29th (Wednesday)
Hole of Horcum (Dwarf Cornel) Joint Meeting with Bradford Botany Group
meet car park SE852936 10:30am
Gill Smith
June 15th
River Rye Walk
meet Helmsley Bridge SE613835 10:00am
Gill Smith
July 20th
Tranmire Bog & Cropton Pools (Dragonflies)
Wheeldale Bridge SE802970 10:00am
Keith Gittens
September 14th
Nosterfield NR and Lingham
Meet on site SE280797. Contact if lift needed

Jim Pewtress
October 12th
Ashberry, Fungus Foray
Meet roadside SE563844 (Cleveland Way junction)
Rhona Sutherland

Extra meetings may be arranged throughout the season.
For further details please contact Pauline Popely.
YNU Field Excursions 2013
VC63 May 18th
Cromwell Bottom, near Elland
VC64 June 8th
Grassington, Grass & Bastow Woods
VC65 July 1-5th
Swaledale Survey Week
contact John Newbould
VC65 July 6th
West Tanfield/Nosterfield, Nosterfield Nature Reserve
VC61 July 20th
Danes Dyke, Flamborough
VC62 August 10th
May Moss and Langdale Forest, North Yorkshire Moors
For further details see http://www.ynu.org.uk/events

Links to other interesting wildlife sites
Back to the home page
---
© Ryedale Natural History Society 2013.
Site maintained by maintained by APL-385. Page last modified 10th Dec 2013